Welcome to ARUPConsult
The Physician's Guide to Lab Test Selection and Interpretation
ARUP Consult® is a laboratory test selection support tool with more than 2,000 lab tests categorized into disease-related topics and algorithms.
---
No front page content has been created yet.
Featured updates
The Lynch Syndrome (LS) topic and algorithm have been updated to include discussion of germline multigene analysis in the evaluation of LS.
The Herpes Simplex Virus topic has been updated and now includes a Key Points tab that describes indications for testing, why HSV typing may not be necessary, and laboratory testing options that are available at ARUP Laboratories.
A new Zika Virus topic offers diagnosis, background, references, and related topics information for use with the new Zika Virus IgM Antibody Capture (MAC), by ELISA test.
---
Video Resource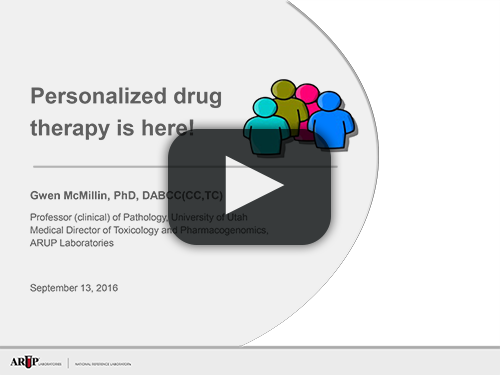 In this free video lecture, Dr. Gwen McMillan, PhD, DABCC, explains how genetic testing can be used to personalize pharmacotherapy decisions. The ARUP Laboratories medical director of toxicology and pharmacogenetics also highlights clinical decision support now available to help guide drug and dose selection based on genetic test results.
---