Welcome to ARUPConsult
The Physician's Guide to Lab Test Selection and Interpretation
ARUP Consult® is a laboratory test selection support tool with more than 2,000 lab tests categorized into disease-related topics and algorithms.
---
No front page content has been created yet.
Featured updates
The Fetal Lung Maturity topic has been updated to reflect the limited role of fetal lung maturity testing, particularly phosphatidylglycerol and lecithin-sphingomyelin ratio testing, neither of which are available at ARUP Laboratories.
The CDC advises that anyone in close contact with a newborn be vaccinated against Bordetella pertussis. Find out which tests to order to determine vaccination status on the updated Bordetella pertussis topic.
The Zika Virus topic has been updated to include new PCR testing options available at ARUP Laboratories.
---
Video Resource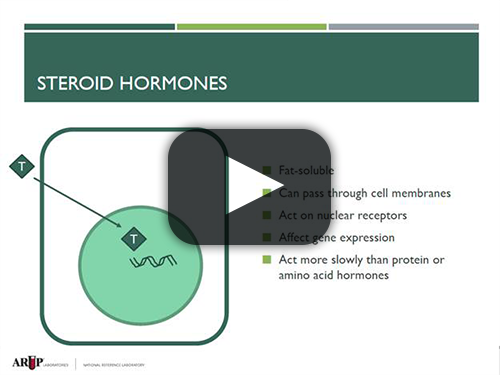 Many different laboratory tests measure testosterone levels, and choosing the right test can be confusing. Amanda Ho, MD, a clinical pathology resident at the University of Utah School of Medicine, provides an overview of how testosterone works in this video lecture, which also explains how to choose the right test.
---