Welcome to ARUPConsult
The Physician's Guide to Lab Test Selection and Interpretation
ARUP Consult® is a laboratory test selection support tool with more than 2,000 lab tests categorized into disease-related topics and algorithms.
---
No front page content has been created yet.
Featured updates
The Colorectal Cancer topic has been updated to reflect the American Cancer Society's 2018 screening recommendations by age.
The Prostate Cancer topic and algorithm have been updated to reflect 2018 National Comprehensive Cancer Network guidelines and to clarify the role of digital rectal exams.
Visit the updated Neutropenia topic for information about testing for neutrophil deficiency, which can occur as a predominant characteristic of disease.
---
Test Your Knowledge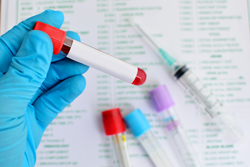 Physicians increasingly view bariatric surgery as an option to slow or reverse syndromes associated with obesity such as diabetes and hypertension, yet surgery comes with risks that include the possible exacerbation of preexisting nutritional deficiencies. ARUP Consult's new Gastric Bypass topic offers expert guidance on preoperative assessment for nutritional deficiencies. The topic also recommends appropriate tests for postoperative monitoring for different types of restrictive and malabsorptive bariatric surgery.
---