Welcome to ARUPConsult
The Physician's Guide to Lab Test Selection and Interpretation
ARUP Consult® is a laboratory test selection support tool with more than 2,000 lab tests categorized into disease-related topics and algorithms.
---
No front page content has been created yet.
Featured updates

The new Mosquito-Borne Arboviruses topic explores laboratory testing options based on a person's symptoms and travel history for West Nile virus, St. Louis encephalitis virus, and emerging arboviruses such as dengue, Zika, and chikungunya.

Inflammatory marker tests can help detect inflammation associated with Crohn disease and ulcerative colitis. Visit the newly updated Inflammatory Bowel Disease (IBD) topic to learn more about these and other tests used in IBD assessment.

Prolonged Clotting Time Evaluation
Prolonged clotting times with unclear etiology may need further evaluation to uncover the cause and to rule out clinically significant bleeding disorders. Visit Prolonged Clotting Time Evaluation  for up-to-date information on lab testing.
---
ARUP Consult Editorial Board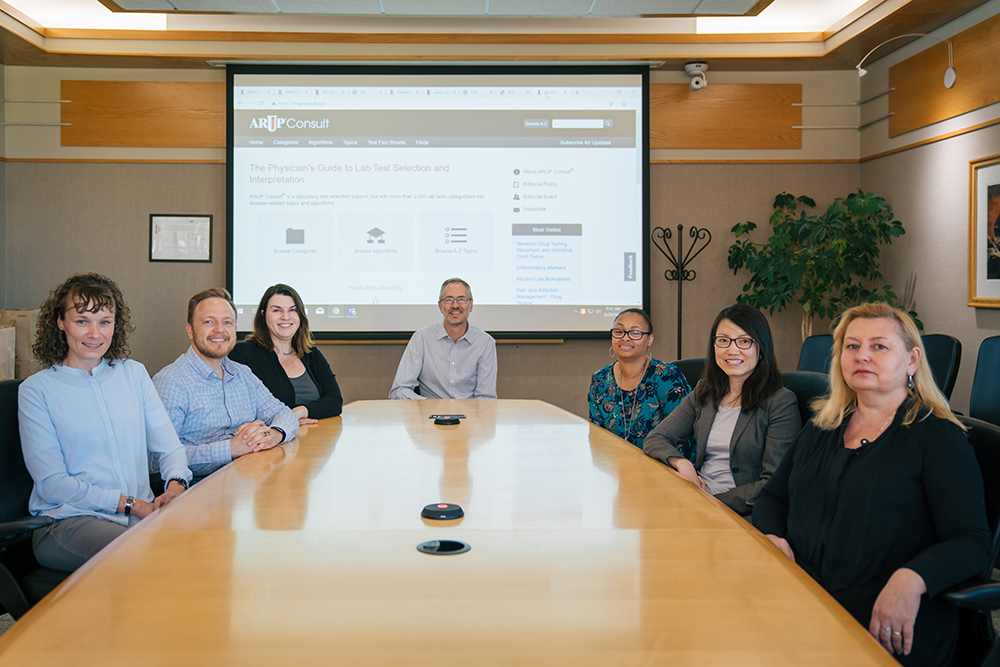 Four New Members Join the ARUP Consult Editorial Board
Four medical directors of ARUP Laboratories who also are University of Utah School of Medicine faculty members have joined the ARUP Consult Editorial Board to share their expertise and help set development priorities and goals for ARUP Consult.
New members of the eight-person board are:
Tracy George, MD, executive director of clinical trials and PharmaDx and medical director of hematopathology
Yuan Ji, PhD, medical director of molecular genetics and genomics and medical director of pharmacogenomics
Lisa  Johnson, PhD, medical director of clinical chemistry
Patricia Slev, PhD, section chief, immunology; medical director of serologic hepatitis and retrovirus; medical director of the Immunology Core Laboratory; medical director of microbial immunology
Read more about the vast expertise new members bring to the board here.
---