Improved ARUP Consult® mobile site replaces the ARUP Consult iPhone app
Welcome to the new version of the ARUP Consult website. This version features many improvements, including an updated look, improved navigation, and responsive design that makes the site easy to use regardless of the computing platform.
In conjunction with this launch, the ARUP Consult iPhone app is no longer be available for download from the App store. Consult iPhone app users are encouraged to use the mobile site instead, as content on the app will no longer be updated.
How is the mobile site superior to the app?
The mobile site is platform independent. It is easy to view and navigate on a desktop computer, laptop, tablet, or mobile phone, and functions in the same way regardless of the computing device's operating system.
ARUP Consult website is updated frequently, and the mobile site reflects all updates as soon as they are published. Users will not have to download or install updates.
Users can share content on social media.
The mobile site invites user feedback by clicking on a button accessible on every page.
How can I create an icon for the mobile site on my phone?
It is simple to create an icon for the mobile site on a mobile phone so that it can be accessed just as quickly as the app. Below are instructions for performing this function on an iPhone on Safari:
Use the browser on your screen to navigate to arupconsult.com.
Once you are on the site, tap the Send icon on the bottom of the screen.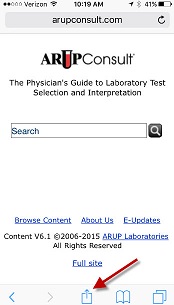 Tap the Add to Home Screen icon.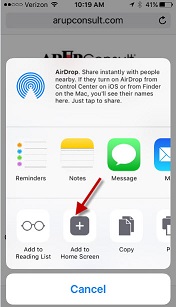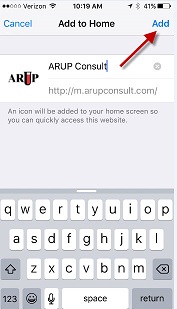 The icon now appears on your mobile device's home screen.
For instructions on using other browsers and/or mobile devices to add ARUP Consult to your mobile homepage, please click here.