Human T-cell lymphotropic virus type I (HTLV-I) is etiologically associated with adult T-cell leukemia/lymphoma (ATLL); tropical spastic paraparesis (TSP), a demyelinating neurological disorder; and HTLV-I-associated myelopathy (HAM). Two types of HTLV testing are available - antibody and molecular testing.
Quick Answers for Clinicians
Which testing algorithms are related to this topic?
Diagnosis
Indications for Testing
Adult T-cell leukemia/lymphoma (ATLL)

Fatigue, rash, lymphadenopathy, accompanied by lymphocytosis, hypercalcemia, and elevated lactate dehydrogenase (LDH)

Human T-lymphotropic virus type I (HTLV-I)-associated myelopathy/tropical spastic paresis (HAM/TSP)

Muscle pain, stiffness, and weakness (myalgias and myopathy)

Changes in bowel and/or bladder function
Other neurological signs and symptoms including peripheral paresthesias and dysesthesias, hyperreflexia, tremor, deafness, changes in vision
Criteria for Diagnosis
ATLL subtypes and diagnostic criteria (Gonçalves, 2010)
Laboratory Testing
Required evaluation for ATLL (Shimoyama, 1991)

Peripheral blood smear – ATLL cells present
HTLV-I testing

HTLV-I and -II antibodies by enzyme immunoassay (EIA)/Western blot

Initial testing
HTLV-II antibodies significantly cross-react to HTLV-I antigens

Populations such as parenteral drug abusers infected with HTLV-II may test positive for HTLV-I antibodies due to antibody cross-reactivity
No evidence to suggest HTLV-II causes human disease

Asymptomatic patients with HTLV-I antibodies

May be infected and should not donate blood
Often do not have ATLL or TSP and may not develop ATLL, HAM, or TSP

Repeat Western blot testing for indeterminate results – 2 weeks and/or 3 months after initial testing

HTLV-I, II polymerase chain reaction (PCR) – use to resolve untypable HTLV Western blot results when there is a strong suspicion of HTLV infection

Cerebrospinal fluid (CSF) studies

Protein – increased
Cell differential – lymphocytic pleocytosis
HTLV antibodies – positive
Oligoclonal bands – positive
IgG index – high

Bone marrow exam – generally not required
Histology
If diagnosis not obtained by above, perform lesion biopsy (if present)
Immunophenotyping

Minimum testing should include CD3, CD4, CD7, CD8, and CD25
Most ATLL cells lack CD7, CD52 with diminished CD3
CD4+ T-cells express CD2, CD5, CD25, CD45RO, CD29
CD7 and CD26 negative and CD3 expression diminished
Imaging Studies
Computed tomography (CT) – recommend neck, thorax, abdomen, and pelvis to exclude extranodal disease
Upper gastrointestinal endoscopy
Central nervous system evaluation by CT/magnetic resonance imaging (MRI) if neurologic signs evident
Prognosis
Poor prognosis risk factors

Serum LDH elevated
Serum calcium elevated
Age ≥40
Three or more lesions
Additional – thrombocytopenia, eosinophilia, high IL5, p53 or p16 deletion
Differential Diagnosis
HAM/TSP

Infectious

Polio virus
Epidural abscess
Tropical pyomyositis
Fungal (eg, Cryptococcus sp, Histoplasma capsulatum)

Neurodegenerative

Amyotrophic lateral sclerosis
Friedreich ataxia

Myopathic
Inflammatory diseases
Malignant

Bony or epidural metastases
Primary intra/extra dural tumor

Nutritional

ATLL

Peripheral T-cell lymphoma (not otherwise specified [NOS])
Anaplastic large cell lymphoma (ALCL)
Mycosis fungoides/Sézary syndrome
Background
Epidemiology
Prevalence

15-20 million infected with HTLV-I worldwide
Endemic in Japan, Caribbean countries, Papua New Guinea, and sub-Saharan Africa

Age

ATLL – mean 60 years
HAM/TSP – 40s-50s

Sex
Transmission

Parenteral
Sexual
Breastfeeding

Lifetime risk of disease in presence of HTLV-I antibodies is low

ATLL – men have increased risk for progression compared to women
HAM/TSP – 0.5-4%
Organism
HTLV-I and HTLV-II are human type C retroviruses

Several subtypes exist that are geographically specific

HTLV-I – six subtypes (A-F)

Single-stranded RNA virus

Majority of human infections caused by HTLV-I
HTLV

and

AIDS​

HTLV-I does not cause AIDS
Antibodies of HTLV-I have no relationship to antibodies of HIV type I (HIV-I)

Antibodies to HTLV-I do not imply excess risk for AIDS
HTLV-I virus is only remotely related to HIV-I, the AIDS virus
HTLV-I and HTLV-II are transmitted similarly to HIV-I and HIV-II
Individuals with HTLV-I or HTLV-II may be coinfected with HIV due to common risk factors (eg, sexual contact, IV drug use)
Risk Factors
Cellular blood products – most efficient mode of transmission
Breast milk – 20% of children of infected mothers will also become infected
Sexual contact – associated with unprotected sex, multiple partners, presence of genital sores, sex exchanged for drugs or money
Sharing of contaminated needles and syringes (eg, IV drug use)
HTLV-I positive mother – perinatal transmission may occur
Poverty
Clinical Presentation
ATLL

4 types – acute, chronic, smoldering, lymphoma
Acute ATLL most common

Rapidly fatal without treatment
Pulmonary complications, opportunistic infections, sepsis
Uncontrolled hypercalcemia may occur

TSP and HAM

Slowly progressive spastic paraparesis – disease is usually present 8-10 years before diagnosis
Prominent weakness of lower extremities with severe spasticity

Upper extremity weakness rare
Mild sensory impairment
Hyperreflexia is often present
Neuropathic pain is common in advanced stage

Bladder/bowel/sexual dysfunction later in disease – urinary tract infections, lithiasis, chronic pyelonephritis, chronic renal failure
Other associated diseases

Ichthyosis
Uveitis/keratoconjunctivitis
Chronic alveolitis
Inclusion body myositis/polymyositis
ARUP Laboratory Tests
Screen for antibodies to HTLV-I and -II
Assay should not be used for blood donor screening, associated reentry protocols, or for screening human cell, tissues, and cellular and tissue-based products
Method
Qualitative Enzyme-Linked Immunosorbent Assay/Qualitative Western Blot
Reflex pattern: if HTLV-I/II screen is repeatedly reactive, then confirmation testing by Western blot will be added
Resolve untypable HTLV Western blot results when there is a strong suspicion of HTLV infection
Method
Real-Time Polymerase Chain Reaction
Confirm antibody test results for a positive screening test (HTLV-I/II)
Assay should not be used for blood donor screening, associated reentry protocols, or for screening human cell, tissues, and cellular and tissue-based products
Aid in evaluation of hematopoietic neoplasms (ie, leukemia, lymphoma)
Specimens include bone marrow, whole blood, tissue, or fluid
Monitor therapy in patients with established diagnosis of hematopoietic neoplasms
Markers selected based on provided clinical history and/or previous test results
Antigens included:
T cell: CD1a, CD2, CD3, CD4, CD5, CD7, CD8, TCR γ-δ, cytoplasmic CD3
B cell: CD10, CD19, CD20, CD22, CD23, CD103, CD200, kappa, lambda, cytoplasmic kappa, cytoplasmic lambda
Myeloid/monocyte: CD11b, CD13, CD14 (Mo2), CD14 (MY4), CD15, CD33, CD64, CD117, myeloperoxidase
Miscellaneous: CD11c, CD16, CD25, CD30, CD34, CD38, CD41, CD42b, CD45, CD56, CD57, CD61, HLA-DR, glycophorin, TdT, bcl-2, CD123, CD138, CD26, CD45, CRLF-2
Use for assessment of multiple sclerosis
Detect unique IgG oligoclonal bands in CSF in conjunction with a matched serum specimen
Preferred test is oligoclonal band profile testing
Method
Qualitative Isoelectric Focusing/Electrophoresis
Preferred test is oligoclonal band profile testing
Index test aids in workup of suspected multiple sclerosis
Medical Experts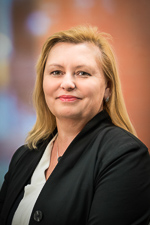 Associate Professor of Pathology (Clinical), University of Utah
Section Chief, Immunology; Medical Director, Immunology Core Laboratory, ARUP Laboratories