Severe combined immunodeficiencies (SCIDs) are genetic disorders characterized by blocked T-lymphocyte differentiation or function and often are associated with abnormal development of other lymphocyte lineages (B cells and natural killer [NK] cells). SCID is also commonly referred to as "bubble boy disease." About 92% of U.S. newborns are now screened for SCID by molecular laboratory testing (Immune Deficiency Foundation [IDF], 2017).
Quick Answers for Clinicians
Which testing algorithms are related to this topic?
Diagnosis
Indications for Testing
In infants or children (Joint Task Force on Practice Parameters, Bonilla, 2015)

Chronic diarrhea
Failure to thrive
Recurrent, persistent, or severe viral, fungal, or bacterial infections
Pneumocystis jiroveci infection
Criteria for Diagnosis
Primary Immune Deficiency Treatment Consortium Diagnostic Criteria for

SCID, Leaky SCID, Omenn Syndrome, and Reticular Dysgenesis

Typical SCID
Leaky SCID
Omenn Syndrome
Reticular Dysgenesis

Absence of or very low CD3 T-cell number (<300/µL), and no or very low T-cell function (<10% LLN), based on PHA response, OR

Reduced CD3 T-cell number

Skin rash, generalized

Absence of T cells or very low T-cell number (<300/µL)

Presence of maternal-origin T cells

No maternal engraftment

No maternal engraftment

No or very low T-cell function (<10% LLN), based on PHA response

<30% of LLN T-cell function, based on PHA response

CD3 cells detectable at level of ≥300/µL

Severe neutropenia (ANC <200/µL)

Absent/low T-cell proliferation (≤30% of normal) to antigens to which patient has been exposed

Sensorineural deafness and/or no granulopoiesis found in bone marrow exam and/or deleterious AK2 mutation

ANC, absolute neutrophil count; LLN, lower level of normal; PHA, phytohemagglutinin

Source: Adapted from Shearer, PIDTC, 2014
Laboratory Testing
Screen for underlying diseases associated with immunodeficiency

CBC – presence of lymphopenia (total lymphocyte count of ≤3,400 cells/µL at birth, ≤3,900 cells/µL at 5-6 months, and ≤1,000 cells/µL in adults) (Immune Deficiency Foundation [IDF], 2015)

Normal lymphocyte count does not rule out SCIDs

HIV testing – rule out HIV infection

Screen for other immunodeficiencies

T-cell and B-cell immunodeficiency profile testing

Testing at minimum should include CD3, CD4, CD8, CD19, CD45RA, CD45RO, natural killer (NK) cell, and CD4:CD8 ratio

Quantitative immunoglobulins
Lymphocyte proliferation induced by mitogens – will be abnormal ​

Test requires at least 4-5 days for results
Anti-CD3/anti-CD28/IL-2-induced lymphocyte proliferation test may be useful, specifically in the context of IL-2-receptor signaling defects

Neutrophil function testing
Complement testing

Analyte/enzyme testing may be considered prior to genetic testing

Adenosine deaminase, purine nucleoside phosphorylase

Molecular diagnosis

Available for prenatal/postnatal testing for SCID
Genetic testing – see lists in Background
Background
Epidemiology
Incidence – >1/58,000 births (Joint Task Force on Practice Parameters, Bonilla, 2015)
Age – median 4-7 months
Sex – M:F, equal, except for X-linked forms
Identified Forms of SCID
Combined Immunodeficiencies (Based on the Classification Update from the International Union of Immunological Societies Primary Immunodeficiency Diseases Committee, Picard, 2018a)
Gene
T Cells
B Cells
NK Cells
Genetics
Associated Features
T-negative/B-positive SCID

IL2RG

Very low

Normal to high

Low

XL

Impaired cytokine-mediated signaling

JAK3

Very low

Normal to high

Low

AR

Impaired cytokine-mediated signaling

IL7R

Very low

Normal to high

Normal

AR

Impaired cytokine-mediated signaling

PTPRC

Very low

Normal

n/a

AR

—

CD3D

Very low

Normal

Normal

AR

CD3-delta deficiency

CD3E

Very low

Normal

Normal

AR

CD3-epsilon deficiency

CD247

Very low

Normal

Normal

AR

—

CORO1A

Very low

Normal

n/a

AR

Detectable thymus, EBV

LAT

Normal to low number

Normal to low

n/a

AR

Adenopathy, splenomegaly, recurrent infections, autoimmunity

T-negative/B-negative SCID

RAG1b

Very low

Very low

Normal

AR

Associated with Omenn syndrome

RAG2b

Very low

Very low

Normal

AR

Associated with Omenn syndrome

DCLRE1C

Very low

Very low

Normal

AR

Radiation sensitivity; Omenn syndrome

PRKDC

Very low

Very low

Normal

AR

Radiation sensitivity; microcephaly

NHEJ1

Very low

Very low

Normal

AR

Radiation sensitivity; microcephaly

LIG4

Very low

Very low

Normal

AR

Radiation sensitivity; microcephaly

AK2

Very low

Normal to low

n/a

AR

Granulocytopenia and deafness; reticular dysgenesis

ADAb

Very low

Low, decreasing

Low

AR

Bone defects; may have pulmonary alveolar proteinosis; cognitive defects

aSources in addition to the International Union of Immunological Societies Primary Immunodeficiency Diseases Committee report (Picard, 2018) include Cossu (2010) and van der Burg (2011)

bGene included on Primary Antibody Deficiency Panel, Sequencing and Deletion/Duplication – ARUP test code 2011156

ADA, adenosine deaminase; AR, autosomal recessive; EBV, Epstein-Barr virus; n/a, not applicable; NK, natural killer; XL, X-linked
Combined Immunodeficiencies Typically Less Profound Than SCIDa
Gene
T Cells
B Cells
Genetics
Comment

DOCK2

Low

Normal

AR

Impaired interferon response in hematopoietic and nonhematopoietic cells; normal NK numbers but defective function

CD40LGb

Normal to low

sIgM+ and sIgD+ B cells present, other surface isotype positive B cells absent

XL

Neutropenia; thrombocytopenia; hemolytic anemia; liver/biliary tract disease; opportunistic infections

CD40b

Normal

IgM+ and IgD+ cells present, other isotypes absent

AR

Neutropenia; GI and liver/biliary tract disease; opportunistic infections

ICOSb

Normal

Normal

AR

Recurrent infections; autoimmunity; gastroenteritis; granulomas in some cases

PNP

Progressive decrease

Normal

AR

Autoimmune hemolytic anemia; neurological impairment

CD3G

Normal number; low TCR expression

Normal

AR

—

CD8A

Absent CD8, normal CD4 cells

Normal

AR

Recurrent infections; may be asymptomatic

ZAP70

Low CD8, normal CD4 cells

Normal

AR

In some cases, immune dysregulation, autoimmunity

TAP1, TAP2, or TAPBP

Low CD8, normal CD4 cells

Normal

AR

Vasculitis; pyoderma gangrenosum

B2M

—

Normal

AR

—

CIITA, RFXANK, RFX5, RFXAP

Low CD4 cells

Normal

AR

Respiratory and GI infections; liver/biliary tract disease

ITK

Progressive decrease

Normal

AR

EBV-associated B-cell lymphoproliferation, lymphoma; normal or low IgG

MAGT1

Low CD4 cells

Normal

XL

EBV infection; lymphoma; viral infections; respiratory and GI infections

DOCK8

Low

Low; low CD27+ memory B cells

AR

Eosinophilia; recurrent infections; severe atopy; cutaneous viral, staphylococcal, and fungal infections; cancer susceptibility; low/impaired function NK cells

RHOH

Normal number

Normal

AR

HPV infection; lymphoma; lung granulomas; molluscum contagiosum

SH2D1Ab

Normal or increased activated T cells

Reduced memory B cells

XL

Clinical and immunologic features induced by EBV infection; HLH; lymphoproliferation; aplastic anemia; lymphoma; hypogammaglobulinemia

RMRP

Varies from severely low to normal; impaired lymphocyte proliferation

Normal

AR

Short-limbed dwarfism with metaphyseal dysostosis; sparse hair; bone marrow failure; autoimmunity; cancer/lymphoma susceptibility; impaired spermatogenesis; neuronal dysplasia of the intestine

STK4

Low

Low

AR

Recurrent bacterial, viral/HPV, and candidal infections; intermittent neutropenia; EBV lymphoproliferation; lymphoma; congenital heart disease; autoimmune cytopenias

TRAC

Absent TCR alpha beta cells

Normal

AR

Recurrent viral, bacterial, and fungal infections; immune dysregulation autoimmunity; diarrhea

LCK

Low CD4+ and T regulatory cells

Normal

AR

Recurrent infections; immune dysregulation; autoimmunity

MALT1b

Normal number

Normal

AR

Bacterial, fungal, and viral infections

CARD11b

Normal number

Normal predominance of transitional B cells

AD, AR

Pneumocystis jirovecii pneumonia, bacterial and viral infections

BCL10

Normal number

Normal number

AR

Recurrent bacterial and viral infections; candidiasis; gastroenteritis

BCL11B

Low

Normal

AD

Congenital abnormalities, neonatal teeth, facies abnormalities, absent corpus callosum, neurocognitive defects

IL21b

Normal number

Low

AR

Severe onset early colitis; sinopulmonary infections

IL21Rb

Normal number

Normal number

AD

Recurrent infections; susceptibility to cryptosporidium and pneumocystis infections and liver disease

TNFRSF4

Normal number

Normal number

AR

Kaposi sarcoma; impaired immunity to HHV8

IKBKB

Normal number

Normal number

AR

Recurrent bacterial, viral, and fungal infections; opportunistic infections

PIK3CDb

—

Low or absent pro-B cells

AD

Severe bacterial infections; EBV

LRBAb

Normal/decreased CD4 number

Low or normal number

AR

Recurrent infections; IBD; autoimmunity; EBV infection

CD27b

Normal

No memory B cells

AR

Clinical and immunologic features triggered by EBV infection; HLH; aplastic anemia; lymphoma; hypogammaglobulinemia; low iNKT cells

RELB

Normal number

—

AR

Recurrent infections

MSN

Normal number

Low number

XL

Recurrent infections with bacteria, varicella, neutropenia

TFRC

Normal number

Normal number, low memory B cells

AR

Recurrent infections, neutropenia, thrombocytopenia

MAP3K14b

Normal number

Low

AR

Recurrent bacterial, viral, and Cryptosporidium infections; low NK cell number

CTPS1

Normal or decreased

Normal or decreased

AR

Recurrent/chronic viral infections (particularly EBV, VZV), lymphoproliferation; B-cell NHL

aBased on the International Union of Immunological Societies Primary Immunodeficiency Diseases Committee report (Picard, 2018); see original source for additional detail about T-cell and B-cell status and function

bGene included on Primary Antibody Deficiency Panel, Sequencing and Deletion/Duplication– ARUP test code 2011156

AD, autosomal dominant; AR, autosomal recessive; CMV, cytomegalovirus; EBV, Epstein-Barr virus; GI, gastrointestinal; HHV8, human herpesvirus 8; HLH, hemophagocytic lymphohistiocytoses; HPV, human papillomavirus; IBD, irritable bowel disease; iNK, invariant natural killer; NHL, non-Hodgkin lymphoma; NK, natural killer; TEMRA, terminal differentiated effector memory cells; Treg, regulatory T cells; VZV, varicella-zoster virus; XL, X-linked
Pathophysiology
Blockage in T-lymphocyte differentiation or growth and variable abnormal development of other lymphocyte lineages
Clinical Presentation
Most newborns appear normal
Early onset of severe infections

Earliest are Pneumocystis jirovecii, viral (also fungal), followed in many cases at 4-6 months by bacterial infection

Persistent diarrhea
Desquamative skin rash, elevated liver enzymes, and gastrointestinal bleeding
Occurrence of graft-versus-host disease upon exposure to maternal lymphocytes, during delivery, or by nonirradiated blood transfusion

Most prominent in skin and liver
May be associated with autoimmune thrombocytopenia or pancytopenia
Rejection of hematopoietic stem cell transplant from father or other donor

Omenn syndrome – atypical SCIDs associated with hypomorphic mutations
Medical Experts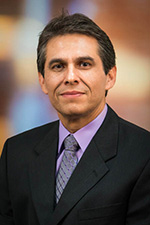 Executive Vice President, ARUP Laboratories
Division Chief of Clinical Pathology, University of Utah and ARUP Laboratories
Professor of Pathology (Clinical), University of Utah
Medical Director, Protein Immunology and Immunologic Flow Laboratories, ARUP Laboratories
Professor of Pathology (Clinical), Pediatrics, and Medicine, University of Utah
Medical Director, Cellular and Innate Immunology, ARUP Laboratories