Takayasu arteritis is a form of granulomatous arteritis that primarily affects the aorta and its major branches. It is most prevalent in adolescent girls and young women and is characterized by ocular disturbances and marked weakening of the pulses in the upper extremities. It is categorized as a large-vessel vasculitis (Jennette, 2013).
Quick Answers for Clinicians
Which testing algorithms are related to this topic?
Diagnosis
Indications for Testing
Clinical symptoms suggestive of Takayasu arteritis

Asymmetric blood pressure
Decrease of brachial artery pulse
Bruit over subclavian arteries or aorta
Claudication of extremities
Blood pressure difference between arms
Criteria for Diagnosis
American College of Rheumatology Criteria for the Classification of Takayasu Arteritis (1990)
Criteria
Definition
Age at disease onset
Symptoms or findings related to Takayasu arteritis before age 40 years
Claudication of extremities
Development/worsening of fatigue and discomfort in muscles of ≥1 extremity while in use, particularly upper extremities
Decreased brachial artery pulse
Decreased pulse in 1 or both brachial arteries
BP difference >10mmHg
Difference in systolic BP of >10 mmHg between arms
Bruit over subclavian arteries or aorta
Bruit over 1 or both subclavian arteries or abdominal aorta audible on auscultation
Arteriogram abnormality
Arteriographic narrowing or occlusion of entire aorta, its primary branches, or large arteries in proximal upper or lower extremities, not as a result of arteriosclerosis, fibromuscular dysplasia, or similar causes – changes typically focal or segmental

Note: For purposes of classification, a patient will be considered to have Takayasu's arteritis if ≥3 of these 6 criteria are present. The presence of ≥3 criteria yields a sensitivity of 90.5% and a specificity of 97.8%.

BP, blood pressure

Source: American College of Rheumatology
Ishikawa's criteria for Takayasu arteritis (modified according to Sharma, 1995)

Proposed modifications to criteria include

Removal of age criterion of <40 years
Inclusion of characteristic signs and symptoms as a major criterion
Removal of age in defining abdominal aortic lesion
Addition of coronary artery lesion in absence of risk factors
Laboratory Testing
Nonspecific testing – helpful in excluding other diagnoses or identifying organ dysfunction

Urinalysis – negative for hematuria
CBC – may show elevated white blood cell (WBC) count
C-reactive protein (CRP)

Preferred test to detect inflammatory processes (Choosing Wisely, American Society for Clinical Pathology, 2016)
Usually elevated
If CRP not available, order erythrocyte sedimentation rate (ESR)

Antineutrophil cytoplasmic antibodies (ANCA) – rule out ANCA-associated vasculitis
Histology
Inflammation, granulomas, and giant cells in large artery walls
Often indistinguishable from giant cell arteritis
Imaging Studies
Magnetic resonance angiography (MRA)/computed tomography (CT) angiography – narrowings, occlusions, or aneurysms of the aorta and its branches

Ultrasound (US) is not as well-established as a diagnostic tool
Differential Diagnosis
Mycotic aneurysm
Atherosclerosis
Congenital – aortic coarctation
Hereditary disorders

Ehlers-Danlos syndrome
Marfan syndrome
Loeys-Dietz syndrome

Fibromuscular dysplasia
Postradiation syndrome
Chronic aortic aneurysm
Chronic infection
Background
Epidemiology
Incidence – rare
Age – 20s (mean)
Sex – F>M, 29:1 in U.S.
Ethnicity – predominantly Asian
Pathophysiology
Large-vessel vasculitis characterized by adventitial thickening and cellular infiltration of tunica media with local destruction of vascular smooth muscle cells and elastin

Strong predilection for aorta, its branches, and pulmonary arteries

Pathogenic T-lymphocyte response
Clinical Presentation
Constitutional – fever, fatigue, malaise, weight loss
Cardiovascular – hypertension, asymmetric blood pressure between limbs, diminished pulses, bruits (carotid most common)
Musculoskeletal – arthralgias, myalgias, limb claudication
Neurologic – syncope, lightheadedness, headache, visual disturbances
ARUP Laboratory Tests
Preferred test to detect acute phase inflammation (eg, autoimmune diseases, connective tissue disease, rheumatoid arthritis, infection, or sepsis)
Preferred first-line reflex panel for the evaluation of ANCA-associated vasculitis
Method
Semi-Quantitative Indirect Fluorescent Antibody/Semi-Quantitative Multiplex Bead Assay
Components: ANCA, IgG; MPO, IgG; PR3, IgG
Medical Experts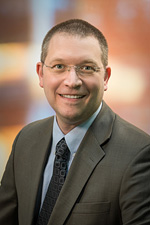 Associate Professor of Pathology (Clinical), University of Utah
Chief Operations Officer: Medical Director, Automated Core Laboratory, ARUP Laboratories
Professor of Pathology, University of Utah
Medical Director, Immunology, ARUP Laboratories