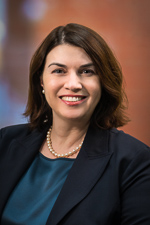 Professor of Clinical Pathology, University of Utah
Chief Medical Officer; and Medical Director, Hematopathology, ARUP Laboratories
Dr. George completed her MD and residency training in anatomic pathology and laboratory medicine at the University of California, San Francisco, with fellowships in hematopathology and surgical pathology at Stanford University.
She is board certified in anatomic pathology, clinical pathology, and hematology by the American Board of Pathology. Her research interests include mast cell disease and laboratory hematology.
Dr. George has authored more than 100 publications, is president elect of scientific communications for the International Society for Laboratory Hematology, and coeditor in chief of the International Journal of Laboratory Hematology. She received the College of American Pathologists Lifetime Achievement Award in 2014.