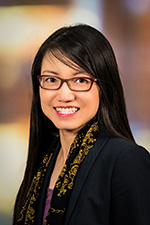 Associate Professor of Clinical Pathology, University of Utah
Medical Director, Molecular Genetics and Genomics, Pharmacogenomics, ARUP Laboratories
Dr. Ji received her PhD in molecular pharmacology and experimental therapeutics at the Mayo Clinic in Rochester, Minn., where she also completed a postdoctoral research fellowship in pharmacogenomics and pharmacometabolomics, a National Institutes of Health (NIH) T32 Clinical Pharmacology Fellowship, and an American Board of Medical Genetics and Genomics fellowship in clinical molecular genetics.
Dr. Ji received multiple early-career development awards and grants, including an NIH-KL2 Mentored Career Award and a Minnesota Partnership for Biotechnology and Medical Genomics Award.
Dr. Ji is board certified in clinical pharmacology and medical genetics and genomics, and she currently serves as program director for the Laboratory Genetics and Genomics Fellowship at the U of U School of Medicine. Dr. Ji's major clinical and research focus is in pharmacogenomics, and she has coauthored several instrumental clinical guidelines for clinical pharmacogenomics testing and implementation. Dr. Ji has also endeavored to develop a valued-added model for noninvasive prenatal testing from a reference laboratory perspective as the test director.