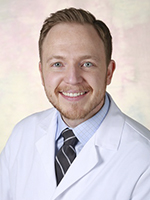 Anatomic and Clinical Pathology Resident, University of Utah School of Medicine and ARUP Laboratories
Associate Medical Director, ARUP Consult
Dr. March received his BS in microbiology and bacteriology from Brigham Young University, where he developed polymerase chain reaction-based and gas chromatography-mass spectrometry-based assays for the rapid identification and differentiation of numerous CDC select agents.
He received his MD degree from the University of Nevada, Reno, School of Medicine. While in medical school, he studied various modalities for the detection and diagnosis of melanoma.
Dr. March's academic interests include medical education optimization and digital pathology utilization.