Toxoplasmosis is a zoonosis caused by the parasite Toxoplasma gondii, an obligate intracellular parasite which infects both birds and mammals, including felines. Infection may cause no obvious symptoms in adults, but may be serious in pregnant women. Serology testing is the primary diagnostic method; acute and convalescent antibody testing is recommended to confirm the presence of disease.
Quick Answers for Clinicians
Which testing algorithms are related to this topic?
Diagnosis
Indications for Testing
Suspected exposure in pregnant female
Undiagnosed flulike illness in immunocompromised patient
Laboratory Testing
Serology

Primary diagnostic method; recommend paired acute and convalescent antibody testing to confirm presence of disease
Pregnancy

IgG, IgM antibodies in pregnant women – caution should be exercised in use of IgM antibody levels due to lack of specificity in prenatal screening

Positive results in pregnant patients must be confirmed positive by a reference laboratory that specializes in toxoplasmosis
CDC recommends the Toxoplasma Serology Laboratory at Palo Alto Medical Foundation
If positive at reference lab, testing should be evaluated by amniocentesis and polymerase chain reaction (PCR) testing for Toxoplasma gondii

See the Toxoplasmosis Serologic Testing Algorithm for test result interpretation or the CDC's toxoplasmosis information page for serology result interpretation
As suggested by the CDC, any equivocal or positive result should be retested using a different test (eg, Sabin-Feldman IgG dye test, IgM enzyme-linked immunosorbent assay [ELISA], IgA ELISA, IgG ELISA, differential agglutination, avidity)

Suspected congenital toxoplasmosis – IgG and IgA by enzyme immunoassay (EIA)

IgA more sensitive than IgM in congenitally infected infants
No commercial test in the U.S. is cleared by the Food and Drug Administration (FDA) for in vitro diagnostic use in infants
Specimens from neonates suspected of having congenital toxoplasmosis should be sent for testing by the Toxoplasma Serology Laboratory

Neonate – PCR on amniotic fluid
Immunocompromised – PCR

Serological determination of active central nervous system (CNS) toxoplasmosis in immunocompromised patients is not possible at this time
Toxoplasma-specific IgG antibody levels in AIDS patients are often low to moderate and occasionally undetectable
Tests for IgM antibodies are generally negative

Cerebrospinal fluid (CSF) exam

Not frequently performed because of increased CNS pressure
Elevated protein, variable glucose, mildly elevated white blood cell count with mononuclear predominance
PCR for T. gondii may establish meningitis/encephalitis
Histology
Imaging Studies
Computed tomography (CT)/magnetic resonance imaging (MRI) of the brain in patients presenting with encephalitis
Differential Diagnosis
Flu-like presentation
CNS disease

Malignancy
Viral/bacterial meningitis
Encephalitis
Demyelinating disease – multiple sclerosis
Multifocal infarct
Arteriovenous malformation

Congenital disease

Lymphocytic choriomeningitis
Background
Epidemiology
Incidence

15-29% of U.S. population is seropositive for toxoplasmosis
Hot, arid climates have a low incidence of toxoplasmosis

Transmission

Usually oral
May occur via blood transfusion, organ transplant, or transplacentally from mother to infant
Risk Factors
Immunocompromised status, including AIDS
Ingestion of raw or undercooked meat
Clinical Presentation
Nonimmunocompromised

Usually mild or asymptomatic disease in adults
Constitutional – prolonged fever, headache, lymph node enlargement, myalgias
Gastrointestinal – hepatomegaly, hepatitis

Pregnant females

Most experience minimal symptoms
If immunocompromised, reactivation may occur – presents risk to fetus (rare vertical transmission)

Congenital

Risk of infection varies with gestational age
Symptoms range from asymptomatic to death
In infected neonates – chorioretinitis, encephalomyelitis, developmental delay, seizures, diffuse intracranial calcifications
Triad of chorioretinitis, hydrocephalus, brain calcification – highly suggestive of toxoplasmosis

Immunocompromised

Symptoms generally more severe
HIV patients – most common presentation is encephalitis (altered mental status, headache, fever, focal neurologic deficits)
ARUP Laboratory Tests
First-line test for identifying visceral T. gondii infection
CDC suggests equivocal or positive results should be retested using a different assay from another reference laboratory specializing in toxoplasmosis testing (IgG dye test, IgM enzyme-linked immunosorbent assay [ELISA], reflex to avidity and/or other tests)
This test should not be used for blood donor screening, associated reentry protocols, or for screening human cell, tissues and cellular and tissue-based products (HCT/P)
Method
Semi-Quantitative Chemiluminescent Immunoassay
Confirm toxoplasmosis infection in immunocompromised hosts as well as fetuses and newborns
May be used to confirm equivocal antibody testing
Limited utility for routine clinical use
Serology has low sensitivity for detecting central nervous system (CNS) toxoplasmosis
Method
Qualitative Enzyme-Linked Immunosorbent Assay
Detect presence of IgM antibodies to T. gondii
For male patients or nonpregnant female patients with equivocal or positive results, polymerase chain reaction (PCR) may also be useful if a specimen can be collected from an affected body site
Method
Semi-Quantitative Chemiluminescent Immunoassay
Detect prior exposure to T. gondii
​This test should not be used for blood donor screening, associated reentry protocols, or for screening human cell, tissues and cellular and tissue-based products (HCT/P)
Method
Semi-quantitative Chemiluminescent Immunoassay
Use only in neonates for cases of suspected congenital toxoplasmosis
Method
Semi-Quantitative Enzyme-Linked Immunosorbent Assay
Not recommended for diagnosing congenital infections in newborns; tests should be selected individually to target the most likely infectious agents
May be used in pregnant women to assess past exposure or immunization to Toxoplasma, rubella, cytomegalovirus (CMV), and herpes simplex virus (HSV)
Not recommended for diagnosing congenital infections in newborns; tests should be selected individually to target the most likely infectious agents
Method
Semi-Quantitative Chemiluminescent Immunoassay/Semi-Quantitative Enzyme-Linked Immunosorbent Assay
Aid in histological diagnosis of T. gondii
Stained and returned to client pathologist; consultation available if needed
Medical Experts
Associate Professor of Pathology (Clinical), University of Utah
Medical Director, Parasitology/Fecal Testing, Infectious Disease Antigen Testing, Bacteriology, and Molecular Amplified Detection, ARUP Laboratories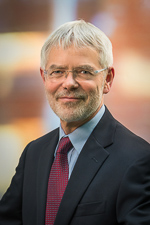 Professor of Pathology, University of Utah
Medical Director, Molecular Infectious Diseases, ARUP Laboratories