Adrenal hyperfunction (Cushing syndrome) causes adrenal tissue to secrete excess cortisol and is manifested by a constellation of symptoms, including central obesity, hypertension, type 2 diabetes, easy bruisability, abdominal striae, and myopathy. The signs and symptoms of high cortisol are common and nonspecific, making the diagnosis challenging.
Quick Answers for Clinicians
Which testing algorithms are related to this topic?
Diagnosis
Indications for Testing
Resistant diabetes
Refractory hypertension
Multiple signs/symptoms of Cushing syndrome after ruling out metabolic syndrome or polycystic ovarian syndrome (PCOS)
Do not test patients who have hypercortisolism secondary to administration of glucocorticoids (oral, inhaled, injections, topical)
Laboratory Testing
Initial testing (Nieman, Endocrine Society, 2008; National Comprehensive Cancer Network [NCCN], 2018)

Salivary cortisol (collected between 2300 hours and 0000 hours) – at least two measurements

Reflects circadian nadir so elevations are more relevant
Samples are stable over time
Cutoff values are test and age specific
Counsel individual to collect on quiet, restful evening

24-hour urine free cortisol (UFC) – at least two measurements

24-hour urine collection – random measurements not recommended
Urinary cortisol levels >3 x upper limit of normal are unequivocal and confirm diagnosis
Results not affected by taking oral estrogen

Dexamethasone suppression testing (DST) – overnight and 2-day tests are available

Does not interfere with cortisol tests
Other glucocorticoids will influence cortisol levels and must be discontinued prior to testing

Other hormones that may interfere with cortisol testing – exogenous testosterone, Nature-Throid, estrogens (eg, birth control), megestrol acetate
Estrogen-containing drugs should be withdrawn for 6 weeks prior to testing

Low-dose (1 mg) DST

Patient should take 1 mg dexamethasone between 2300 hours and 0000 hours – should suppress adrenocorticotropic hormone (ACTH) production if hypothalamic-pituitary-adrenal axis (HPA) is normal
Serum or urine should be collected between 0800 and 0900 hours and tested for free cortisol

ACTH collected at same time may be helpful in case of positive test

Dexamethasone is measured to confirm administration and normal metabolism

2-day, 2 mg test – may be used to confirm that ACTH can be suppressed if overnight, low-dose test is equivocal

Administer 0.5 mg every 6 hours starting at 0800 for 2 days for a total of eight doses (2 mg)
Collect serum for cortisol 2-6 hours after last dose administered
Collecting ACTH at same time will assist with etiology in case of positive test
Collect dexamethasone to confirm administration and normal metabolism
Urinary corticosteroid excretion on day two of dexamethasone administration has been used (compare to baseline day urinary corticosteroid excretion)

Not currently recommended, but literature often cites concentrations

To confirm elevated results – repeat either of the DST tests or the cortisol tests

If high suspicion remains – use high-dose dexamethasone (8 mg) overnight test

Similar protocol to low-dose overnight dexamethasone suppression test
Negative suppression testing – suggests etiology other than Cushing syndrome

Follow-up testing (Nieman, Endocrine Society, 2008; NCCN, 2018)

Endocrinology referral
Serum ACTH in conjunction with suppression tests – aid in determining whether disease is adrenal, pituitary, or ectopic ACTH based

Suppressed ACTH (<10 pg/mL) – suggests etiology is ACTH independent and pathology is adrenal (adenoma, carcinoma)
High ACTH (>20 pg/mL) – suggests ectopic ACTH
Intermediate ACTH (10 pg/mL – 20 pg/mL) – likely Cushing syndrome and magnetic resonance imaging (MRI) should be done to visualize tumor

ACTH-producing tumors are often not visualized (microadenoma)
Bilateral inferior petrosal sinus sampling is indicated – testing is technically difficult and should only be performed in a high-volume center (Pappachan, 2017)

Petrosal ACTH to serum ACTH ratio is measured before and after corticotropin stimulation
Absence of change in gradient – suggestive of ectopic ACTH-producing tumor
Significant increase in pre- and poststimulation – expected in Cushing syndrome

Mechanisms of potential interference with test evaluation when diagnosing Cushing syndrome and selected drugs that may cause these effects (Nieman, Endocrine Society, 2008)

CYP3A4 and dexamethasone metabolism

Accelerate dexamethasone metabolism by induction of CYP3A4

Phenobarbital
Phenytoin
Carbamazepine
Primidone
Rifampin
Rifapentine
Ethosuximide
Pioglitazone

Impair dexamethasone metabolism by inhibition of CYP3A4

Aprepitant/fosaprepitant
Itraconazole
Ritonavir
Fluoxetine
Diltiazem
Cimetidine

Increase cortisol-binding globulin, therefore falsely elevate cortisol results
Increase urine free cortisol results

Carbamazepine – increase
Fenofibrate – increase if measured by high-performance liquid chromatography (HPLC)
Some synthetic glucocorticoids – immunoassays

Drugs that inhibit 11β-HSD2 – licorice, carbenoxolone​
Histopathology
Definitive solid tumor diagnosis requires biopsy and pathologist examination
Useful immunohistochemical stains may include ACTH by immunohistochemistry
For detailed descriptions, refer to ARUP's Immunohistochemistry Stain Offerings
Imaging Studies
MRI pituitary with inferior bilateral petrosal sampling of ACTH – differentiate between Cushing syndrome and ectopic source (if necessary)

If ACTH is low – MRI of adrenal glands
If ACTH >20 pg/mL – search for ectopic ACTH-secreting tumor

Computed tomography (CT) adrenal protocol or MRI adrenals – identify unilateral/bilateral tumor or hyperplasia
Prognosis
Untreated Cushing syndrome – associated with excess morbidity/mortality secondary to cardiovascular disease
If tumor is benign and removed – mortality associated with comorbid diseases developed in association with tumor may normalize
Malignant tumors producing ACTH have a poor prognosis
Differential Diagnosis
Monitoring
Following definitive treatment (surgery of adrenals or pituitary, medical adrenal suppression, radiation therapy), consider monitoring (Nieman, Endocrine Society, 2015)

Cortisol – for hypocortisolism or hypercortisolism
Pituitary hormone (refer to Hypopituitarism)
Serum sodium – 5-14 days following transsphenoidal surgery
Background
Epidemiology
Incidence – 2-3/100,000 (Nieman, Endocrine Society, 2008)
Age – uncommon in children; peaks in 20s-50s
Sex – M<F, 1:4-6
Etiology
Endogenous

Pituitary (Cushing syndrome)

Hyperplasia
Adenoma, often microadenoma

Adrenal

Adenoma
Carcinoma

Most are sporadic tumors
Hereditary syndromes (eg, Li-Fraumeni) may present as carcinoma

Ectopic production of ACTH – tumors (carcinoid, small cell lung cancer)

Exogenous – glucocorticoid administration

Genetics (Lacroix, 2015)

Pituitary adenoma – USP8, MEN1, CDKNB/p27Kip1, AIP, DICER1

Ectopic ACTH secretion – RET, MEN1
Bilateral macronodular adrenal hyperplasia – ARMC5, MEN1, FH, GNAS1, PDE11A, PDE88, MC2R, PRKACA
Adrenal adenoma – PRKACA, CTNNB1, GNAS1, PRKAR1A
Primary pigmented nodular adrenocortical disease – PRKAR1A, PDE11A, PDE8B, PRKACA
Pathophysiology
Corticotropin-releasing hormone (CRH) in the hypothalamus stimulates release of ACTH from the pituitary gland
ACTH acts on the adrenal glands to produce cortisol
Most endogenous cases are caused by hypersecretion of pituitary ACTH or ectopic production of ACTH from nonpituitary source
Clinical Presentation
Centripetal obesity, moon facies, buffalo hump, hirsutism, reddish-purple striae
Hypertension
Menstrual abnormalities (eg, amenorrhea)
Irritability, impaired memory
Fatigue, weakness
Proximal myopathy
ARUP Laboratory Tests
Rule out Cushing syndrome
Do not use for patients taking glucocorticoids
Rule out Cushing syndrome
Do not use for patients taking glucocorticoids
Method
Quantitative Liquid Chromatography-Tandem Mass Spectrometry
Differential diagnosis of Cushing syndrome
Screen and diagnose primary and secondary adrenal insufficiency
Compliance assessment of dexamethasone suppression testing
Method
Liquid Chromatography-Tandem Mass Spectrometry (LC-MS/MS)
Screen, diagnose, and monitor diseases associated with excess or deficient cortisol production
Method
Equilibrium Dialysis/Quantitative High Performance Liquid Chromatography-Tandem Mass Spectrometry
Aid in diagnosing adrenal insufficiency and determining the presence of anterior pituitary tumors
Method
Quantitative Electrochemiluminescent Immunoassay (ECLIA)
Screen, diagnose, and monitor diseases associated with excess or deficient cortisol production
Method
Quantitative Chemiluminescent Immunoassay
Screen, diagnose, and monitor diseases associated with excess or deficient cortisol production
Method
Quantitative Chemiluminescent Immunoassay
Screen, diagnose, and monitor diseases associated with excess or deficient cortisol production
Method
Quantitative Chemiluminescent Immunoassay
Aid in histologic diagnosis of adrenal hyperfunction
Stained and returned to client pathologist for interpretation; consultation available if needed
Medical Experts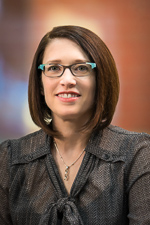 Associate Professor of Pathology (Clinical), University of Utah
Section Chief, Chemistry; Medical Director, Endocrinology and Automated Core Laboratory, ARUP Laboratories
Assistant Professor of Pathology (Clinical), University of Utah
Co-Director of Clinical Laboratories at University Hospital, ARUP Laboratories