Infertility is a common problem in the U.S., affecting millions of couples who incur significant expense for fertility treatments. An integrated analysis of both partners including medical history, laboratory testing, imaging, and procedures to evaluate the genitourinary system is conducted to identify the cause of infertility.
Diagnosis
Indications for Testing
Inability to achieve pregnancy

Within 12 months with regular, unprotected intercourse
Within 6 months with regular, unprotected intercourse

If ≥35 years or
With additional risk factors for infertility

Known infertility
Laboratory Testing and Clinical Assessment
Female

Ovulation testing

Serum progesterone

Documents ovulation
Collect approximately 1 week before start of menses (eg, day 21 of a 28-day cycle)
Progesterone ≥3 ng/mL implies ovulation

Ovarian reserve testing (American Society for Reproductive Medicine (ASRM, 2015)

Determine number and quality of eggs remaining in ovaries to be released and fertilized
Adds more prognostic information; should not be sole criteria to determine treatments – limited predictive ability
Available testing

Anti-Mullerian hormone (AMH)

Assess decreased ovarian reserve
Relatively consistent throughout menstrual cycle – can be collected on any day
High levels associated with polycystic ovarian syndrome (PCOS); low levels associated with poor reserve and poor response to ovarian stimulation

Follicle stimulating hormone (FSH) and estradiol

Measure on day 2-4 of menstrual cycle
High FSH associated with difficulty conceiving and poor ovarian stimulation (required for in vitro fertilization [IVF] treatment)

Fragile X carrier screening is recommended in individuals <40 years of age who receive an elevated FSH result or who have ovarian insufficiency without an apparent cause (American College of Obstetricians and Gynecologists [ACOG], 2019)

Estradiol alone not a recommended test – only assists with interpretation of FSH

Clomiphene citrate challenge

Administer clomiphene citrate 100 mg daily
Measure FSH day 3 and day 10 of cycle

Further testing for etiology of anovulatory cycles

Serum prolactin

Evaluate in women with irregular menses, galactorrhea, or other signs or hyperprolactinemia
If prolactin is elevated and computed tomography (CT)/magnetic resonance imaging (MRI) of sella is negative, consider macroprolactin testing
Do not perform prolactin testing as part of routine infertility evaluation in women with regular menses (Choosing Wisely, ASRM, 2015)

Thyroid stimulating hormone (TSH)

Evaluate for hypothyroidism
Correction can restore regular cycles

Hyperandrogenism/PCOS

Testosterone

Use test for children and females (done by mass spectrometry or liquid chromatography tandem mass spectrometry [LC-MS/MS]) – able to detect low levels of testosterone

Use for evaluation of suspected PCOS

Signs and symptoms – acne, hirsutism, irregular periods, male pattern baldness
Patient will have anovulatory cycles

Male

Sperm analysis

Assess spermatic function
Semen analysis of at least 2 specimens (after 2-3 days of abstinence)
If repeat analysis required, repeat after 3 months due to 2 month sperm regeneration time
Up to 40% of subfertile men have normal sperm analysis
Normal semen parameters – 5th percentiles (95% confidence intervals in parentheses) (Cooper, WHO, 2010)

Volume – ≥1.5 mL (1.4-1.7)
pH – ≥7.2
Sperm concentration – ≥15x106 spermatozoa/mL (12-16)
Total sperm count – ≥39x106/ejaculate (33-46)
Motility – within 60 minutes of ejaculation

Total motility – ≥40% (38-42)
Progressive motility – ≥32% (31-34)
High viability with a low motility suggestive of structural defects (eg, primary ciliary dyskinesia)

Vitality – ≥58% live (55-63)
Morphology – ≥4% normal forms (3-4)

Testosterone (see Hypogonadism topic)

Assess androgen status using testosterone

Morning total testosterone is appropriate initial test

Most useful if oligospermia or azoospermia noted on semen analysis

FSH and luteinizing hormone (LH)

In combination with testosterone levels, assists with determination of primary or secondary hypogonadism

Additional analysis – consider if initial screen is negative and other signs and symptoms indicate reasons for testing

Ferritin – elevated iron levels may indicate hereditary hemochromatosis
TSH – hypothyroidism
CBC, sexually transmitted infections (STI) testing – evaluate for infectious disease
Testing for pituitary tumor

Genetic testing

Warranted when sperm density <5x106/mL or when nonobstructive azoospermia or clinical suspicion present
Karyotyping

Klinefelter syndrome (XXY) is most common abnormality (see Hypogonadism, Background)

Associated with normal semen volume but low sperm
Typically low testosterone with elevated FSH

Y chromosome microdeletion

Typically normal semen volume, low sperm count, normal or elevated FSH
Not detected with standard karyotyping
Deletion is in azoospermia factor (AZF) regions
Associated with successful assisted reproductive technology

CFTR gene analysis to exclude cystic fibrosis

When vas deferens absent
Typically low semen volume
Differential Diagnosis
See Etiology in Background.
Background
Epidemiology
Prevalence – 10-15% of couples in U.S. (~2 million couples)
Definition – inability to conceive after 12 months of regular, unprotected intercourse
Etiology
Female factors – 30-40% of cases

Ovarian dysfunction

Aging
Single ovary
Previous ovarian surgery
History of chemotherapy or radiation

Tubal factors
Uterine/cervical factors – uncommon etiologies

Congenital anomaly
Fibroids
Polyps
Poor cervical mucous quality

Lifestyle
Endocrine/metabolic disorders

X chromosome abnormalities

Genetic disease

Male factors – 30-40% of cases

Primary/secondary hypogonadism
Orchitis – usually infectious (eg, mumps)
Altered sperm (eg, cystic fibrosis)
Y chromosome abnormalities/microdeletions
Trauma
Exposure to toxic agents (eg, chemotherapy, radiation)
Testicular tumor
Clinical Presentation
Female

Galactorrhea
Signs of hyperandrogenism (eg, hirsutism)
Obesity or underweight

Male

Varicocele or hydrocele
Signs of androgen deficiency
Signs of infection (eg, epididymitis)
Obstruction/absence of the ejaculatory ducts
Testicular tumor
Medical Experts
Professor of Pathology (Clinical), University of Utah
Medical Director, Molecular Genetics and Genomics, ARUP Laboratories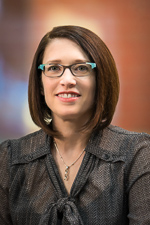 Professor of Pathology (Clinical), University of Utah
Section Chief, Chemistry; Medical Director, Endocrinology; Co-Director, Automated Core Laboratory, ARUP Laboratories