Herpes simplex virus (HSV) occurs worldwide and produces a variety of clinical manifestations, ranging from mild stomatitis to fatal disease. Herpes simplex virus type 2 (HSV-2) causes recurrent genital herpes episodes more often than herpes simplex virus type 1 (HSV-1), although HSV-1 is responsible for a growing number of genital herpes cases.
Key Points
Herpes simplex virus (HSV) infections are extremely common worldwide. The herpes simplex viruses comprise two distinct types of DNA viruses: herpes simplex virus type 1 (HSV-1) and herpes simplex virus type 2 (HSV-2). While HSV subtyping is available, typing is not required for treatment. Treatment for HSV-1 and HSV-2 infections is the same.
Indications for HSV Testing
Sexually transmitted infection – seronegative individuals are at risk of acquiring infection from seropositive partners

HSV-1

Usually transmitted via nonsexual route
An increasing proportion of genital herpes is due to HSV-1

HSV-2

Majority of persons positive for HSV-2 have not been diagnosed with genital herpes
Individuals with HSV-2 can have mild or unrecognized disease and may shed virus from genital area intermittently
HSV-2 infection increases the risk of acquiring HIV infection (refer to STDs and HIV – CDC Fact Sheet)

Transmission from mother to neonate

First-time (primary) infection of woman during pregnancy – increases the risk of transmitting virus to neonate during delivery
Most neonatal infections are acquired intrapartum

Reinfection with HSV – rare, but dormant virus can be reactivated
Prognostic indicator and guide for treatment in transplant patients – majority of HSV infections in transplant recipients result from reactivation of latent virus, especially during early posttransplant period and periods of severe immunosuppression
Central nervous system (CNS) infections

HSV-related meningitis – generally benign and controlled with antivirals
Untreated HSV-related encephalitis – >70% fatality rate

Antiviral susceptibility for HSV (eg, acyclovir)
HSV Typing
Typing is unreliable and potentially clinically insignificant in many cases due to cross-reactivity between the 2 HSV types
Typing may be useful epidemiologically, for patient counseling regarding disease acquisition, and for some assistance with prognosis (CDC, 2014)
HSV subtype does not affect choice of treatment
Early false negative results may occur; type-specific antibody testing may not be positive until 2-3 months postinfection
If pursuing subtyping, HSV-1/-2 glycoprotein G (gG) antigen serology testing is recommended

"Type-specific" antibody testing
Does not detect cross-reacting antibodies
Provides more accurate serological assessment of HSV-1/HSV-2

IgM testing – limited clinical utility; not reliable for diagnosis of genital lesions or neonatal herpes (CDC, 2014)
Laboratory Testing for HSV
HSV infection can be confirmed by direct detection of the virus, detection of antibodies to HSV, or immunohistochemical testing
Virologic Testing (Direct Detection of HSV Infection)
Test Methodology
Description

NAAT (PCR) testing for viral DNA

Rapid diagnostic testing.

Preferred method for CSF testing and neonates.

May detect asymptomatic HSV shedding.

High sensitivity and specificity.

Typing is included in some reflex tests.

Viral culture

Traditional gold standard test for identifying acute HSV infection in active lesions (eg, vesicles, ulcers, inflamed mucous membranes).

Molecular testing (eg, PCR) generally preferred

High specificity but low sensitivity, especially for recurrent and healing lesions.

High rate of false negatives – sensitivity declines rapidly as lesions begin to heal.

More often positive in primary infection (80-90%) than recurrences (30%) (CDC, 2014).

Typing is included in some reflex tests.

Antigen detection by DFA

Rapid diagnostic test with culture backup for negative DFA results.

Test may be helpful in identifying acute HSV infection in active lesions.

Molecular testing is generally preferred.

Lower sensitivity compared to PCR

Typing is not included in this testing.

Cytology

Not recommended.

CSF, cerebrospinal fluid; DFA, direct fluorescent antibody; NAAT, nucleic acid amplification test; PCR, polymerase chain reaction
Type-Specific Serology Testsa
Test Methodology
Description

HSV-specific glycoprotein G2 (HSV-2) and glycoprotein G1 (HSV-1)

Glycoprotein G-based type specific test is acceptable for HSV serologic diagnosis (CDC, 2015).

May be useful for the following:

Recurrent genital symptoms or atypical symptoms with negative HSV PCR or culture
Clinical diagnosis of genital herpes without laboratory confirmation
Patient whose partner has genital herpes

IgG testing

Sensitivity varies; false-negative results might be more frequent at early stages of infection.

Type-specific HSV IgG antibodies may require 3-6 months to form.

Follow-up testing is required to confirm negative IgG glycoprotein result in context of positive HSV types 1 or 2 antibody results.

IgM testing

Not recommended; lacks adequate predictive value for acute infection (CDC, 2015).

aHSV-1 and -2 are closely related antigenically and high cross-reactivity exists between the 2 common antigens, which may affect the accuracy of antigen-based typing tests. Serology tests that use HSV-1 or -2 glycoprotein G (gG) antigens are considered "type-specific" antibody tests and do not detect cross-reacting antibodies. Thus, they provide a more accurate serological assessment of whether the HSV is type 1 or 2. Because glycoprotein antibodies may require up to 3 months to form, follow-up testing is recommended to confirm a negative IgG glycoprotein in the context of positive HSV-1 or -2 antibody results.
Antiviral Susceptibility Testing

| Test Methodology | Description |
| --- | --- |
| Antiviral susceptibility testing | Determine susceptibility to treatment in immunosuppressed patients (eg, patients with HIV or organ transplant). |
Immunohistochemical Staining
Test Methodology
Description

Immunohistochemical staining of FFPE prepared tissues/cells

Not commonly ordered.

May be considered if tissue histology is suspicious for HSV.

FFPE, formalin-fixed paraffin-embedded
Diagnosis
Indications for Testing
Genital or oral ulcerative or vesicular lesions
Central nervous system (CNS) infections

Unidentified encephalitis
Encephalitis with focal neurologic symptoms
Herpes simplex virus (HSV)-related meningitis

Transmission from mother to neonate – evaluate first-time (primary) infection of woman during pregnancy
Prognostic indicator and guide for treatment in transplant patients – majority of HSV infections in transplant recipients result from reactivation of latent virus, especially during early posttransplant period and periods of severe immunosuppression
Antiviral susceptibility for HSV (eg, acyclovir, foscarnet)
Criteria for Diagnosis
Genital herpes HSV case definition (CDC, 1996)
Laboratory Testing
Refer to Key Points for laboratory testing options
CNS disease – consider multiple panel testing on cerebrospinal fluid (CSF) and serum to rule out other viral illnesses (eg, varicella-zoster virus [VZV], mumps)​
Histology
Refer to Key Points
Prognosis
Following active infection, HSV establishes latent infection that can be reactivated
Neonates

Better prognosis with herpes simplex virus type 1 (HSV-1) ocular, oral, cutaneous disease
Less neurologic morbidity with HSV-1 encephalitis
More sequelae from HSV-1 disseminated disease
Differential Diagnosis
Oral disease

Acute necrotizing ulcerative gingivitis
Aphthous ulcers
Erythema multiforme
Enterovirus
Herpangina (coxsackievirus)
Stevens-Johnson syndrome

Genital disease

Atopic dermatitis
Behçet syndrome
Erosive lichen planus
Haemophilus ducreyi

Skin lesions
Finger lesions – paronychia
Congenital disease
Screening
Serologic screening in asymptomatic persons not recommended (U.S. Preventive Services Task Force [USPSTF], 2016; Choosing Wisely, 2018)
Background
Epidemiology
Prevalence (CDC, 2014)

Herpes simplex virus type 1 (HSV-1) – ~60% seropositivity in U.S. adults; >90% positivity in undeveloped countries
Herpes simplex virus type 2 (HSV-2) – ~16% seropositivity in persons aged 14 to 49 years in the U.S.

Age

33% of cases <20 years
50% of cases >50 years

Sex – M<F (HSV-2)
Transmission

HSV-1

Predominantly oral
Genital herpes cases increasing
Vertical transmission

HSV-2

Predominantly sexually (can occur during asymptomatic periods)
Vertical transmission (perinatally)
Organism
Double-stranded DNA virus of the Herpesviridae family

HSV-1 – majority of nongenital HSV infections
HSV-2 – cause of genital infections in >80% of patients

Biological features unique to herpes virus
Clinical Presentation
Only 10-30% of new infections are symptomatic
Primary infections are usually longer in duration than reactive infections
HSV-2 causes recurrent genital herpes episodes more often than HSV-1

Genital herpes (primary and recurrent)

Increases risk for acquiring HIV
Usually presents as symptomatic and painful genital ulcer

Pregnancy

Disease has higher rate of dissemination
More commonly associated with visceral involvement

Clinical symptoms are widespread and depend on clinical site, age, and immune status of host

Gingivostomatitis – widespread oral ulcers with lymphadenopathy (submandibular, cervical)
Recurrent herpes labialis – erythematous papules and vesicles on lips
Keratitis – eye pain, light sensitivity, corneal dendritic ulcers (can lead to blindness)
Conjunctivitis – increases risk of keratitis
Herpes gladiatorum – vesicular skin eruptions usually in face, ears, and neck areas
Eczema herpeticum – dissemination of oral herpes into a previously abnormal skin area (burns, atopic dermatitis)
Herpes sycosis – vesiculopapular lesions in beard area
Herpetic whitlow – vesicular eruption located on pulp of distal phalanges of hands
Aseptic meningitis and recurrent meningitis (Mollaret meningitis)

Occurs as a complication of HSV-1 or HSV-2 primary infection
Seizures may be first presentation

Visceral herpes (esophagitis, pneumonitis, hepatitis) – more common in immunocompromised patients
Meningitis/encephalitis – associated with focal neurologic findings
Neonatal herpes – infection may be acquired in utero, intrapartum, or postnatally
Congenital – microcephaly, hydrocephalus, chorioretinitis, cutaneous vesicular lesions, myocarditis, skin lesions
Proctitis – most common in homosexual men
Erythema multiforme – secondary HSV is one of the most common causes
Prevention
Barrier contraception and daily suppressive therapy recommended to prevent partner infection
Pregnant women not infected with HSV-2 should be advised to avoid intercourse during the third trimester with infected partner
Medical Experts
Associate Professor of Clinical Pathology, University of Utah
Medical Director, Parasitology/Fecal Testing, Infectious Disease Antigen Testing, Bacteriology, and Molecular Amplified Detection, ARUP Laboratories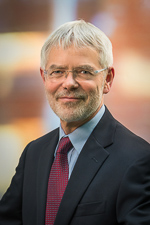 Professor of Pathology, University of Utah
Medical Director, Molecular Infectious Diseases, ARUP Laboratories
Assistant Professor of Clinical Pathology, University of Utah
Medical Director, Molecular Infectious Disease, ARUP Laboratories
References
Resources from the ARUP Institute for Clinical and Experimental Pathology®