Inherited cancer syndromes are genetic conditions that cause a predisposition to certain types of cancer. Specific cancer risks vary depending on the gene involved. Laboratory testing is used to determine whether an individual has inherited a familial predisposition to cancer and whether there is a risk of passing the condition to offspring. In some types of cancer, laboratory testing may also be used to screen for, monitor, and assess risk of tumors.
Indications for Testing
Genetic counseling should be offered to any individual who is considered to be at risk for hereditary cancer. Genetic testing may be recommended in some clinical circumstances and may inform medical management of the tested individual and any at-risk family members.
Laboratory Testing
Initial testing to diagnose a hereditary cancer syndrome in a family may entail a multigene panel or single gene testing, depending on the differential diagnosis. For family members of individuals with a known pathogenic variant, targeted testing for that familial variant is recommended.
The following ARUP Consult content discusses in more detail when germline genetic testing for hereditary cancer syndromes should be considered.
Testing Topics
Other topics that discuss testing for hereditary cancer disorders include:
Gastrointestinal Stromal Tumors (GISTs)
Non-Small Cell Lung Cancer - Non-Small Cell Lung Cancer Molecular Markers
Pancreatic Neuroendocrine Tumors - PNETs
Primary Brain Tumors - Brain Tumor Molecular Markers
Test Fact Sheets
APC- and MUTYH-Associated Polyposis Panel, Sequencing and Deletion/Duplication
Genetic Testing for Hereditary Paraganglioma/Pheochromocytoma
Hereditary Bone Marrow Failure Panel, Sequencing and Deletion/Duplication
Hereditary Breast and Gynecologic Cancers Panel
Hereditary Breast Cancer (Including BRCA1 and BRCA2)
Hereditary Erythrocytosis Panel, Sequencing
Hereditary Gastrointestinal Cancer Panel, Sequencing and Deletion/Duplication
Hereditary Myeloid Neoplasms Panel, Sequencing
Hereditary Pancreatic Cancer Panel, Sequencing and Deletion/Duplication
Hereditary Prostate Cancer Panel, Sequencing and Deletion/Duplication
Lynch Syndrome Panel, Sequencing and Deletion/Duplication
Multiple Endocrine Neoplasia Type 1 (MEN1) Sequencing and Deletion/Duplication
Multiple Endocrine Neoplasia Type 2, RET Sequencing
Neurofibromatosis Type 1 Sequencing and Deletion/Duplication and Legius Syndrome Sequencing Panel
Tuberous Sclerosis Complex Panel, Sequencing and Deletion/Duplication
Medical Experts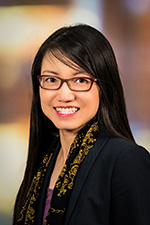 Associate Professor of Pathology (Clinical), University of Utah
Section Chief, Molecular Genetics and Genomics, ARUP Laboratories